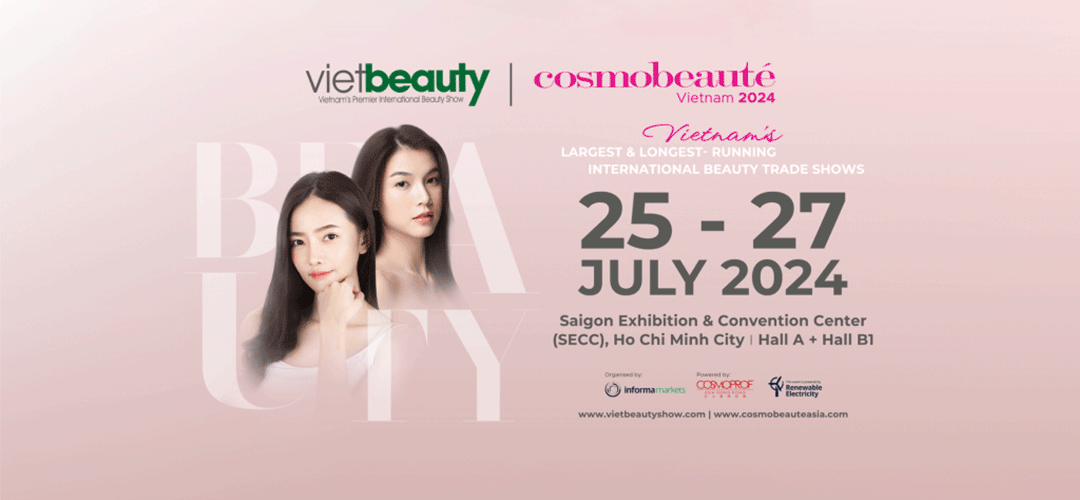 VietBeauty – Ho Chi Minh City
Vietbeauty & Cosmobeauté Vietnam
---
25-27 July 2024
Saigon Exhibition Convention Center (SECC), Ho Chi Minh City, Vietnam
25-27 July 2024 - Saigon Exhibition Convention Center (SECC), Ho Chi Minh City, Vietnam
---
International Agent
---
Organized by
---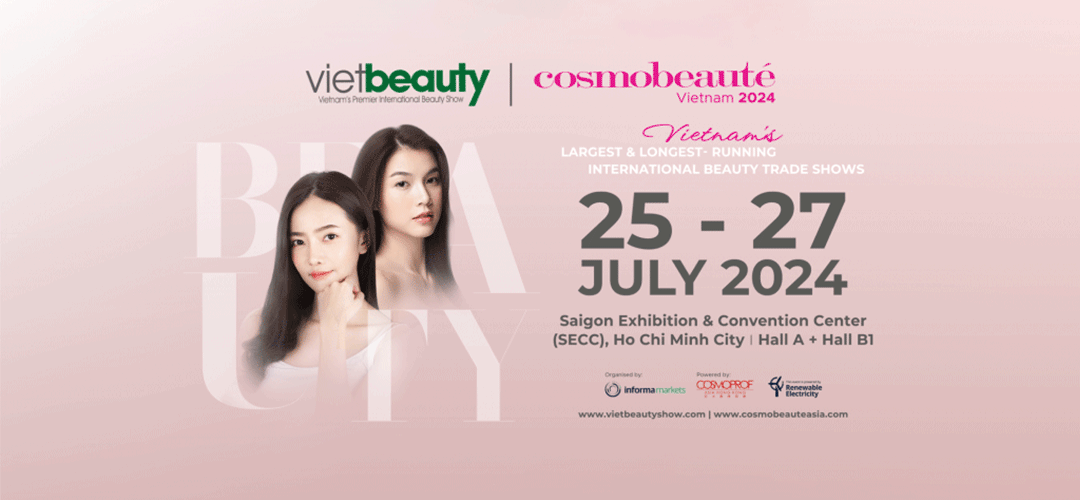 Informa Markets Vietnam will operate the well-known trade show - Vietbeauty & Cosmobeauté Vietnam at Saigon Exhibition & Convention Center – SECC, 799 Nguyen Van Linh, District 7, HCMC. This exhibition aims to provide a valuable platform for Vietnamese enterprises to connect with potential suppliers in the beauty and healthcare sector, generate access to cutting-edge technologies in aesthetics, and heads up with the latest trends in the beauty industry.
During the 3 days of the exhibition, many famous international brands in the cosmetics and beauty industry showcase at Vietbeauty & CosmoBeauté Vietnam, focusing on the Cosmetics and Toiletries; Fragrances; Hair Products; Skincare Products; Healthcare Machinery; Beauty Salon and Aesthetic Equipment; Nails and Accessories; Natural Health Products; Packaging; Raw Ingredients; Salon Supplies; Services and Furnishings; Spa and Wellness Products.
Furthermore, the show features engaging events and activities providing visitors with the opportunity to gain new insights, knowledge and updated techniques. One of the highlights is the series of seminars with abundant topics from the beauty manufacturing landscape in Vietnam, distributing and retailing case studies in the markets and new technologies training sessions for dermatologists & related professionals. Trade visitors and exhibitors can also observe the spectacular demonstrations of skin care, hairdressing, and makeup, or live broadcasts with influences (KOL/KOC) in the exhibition hall.
---
FACTS & FIGURES 2022:
4.400 sqm
6.404 Visitors
145 Companies with 550+ Beauty Brands
only-mobile Website