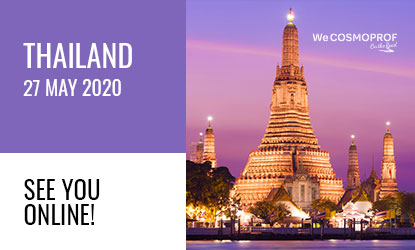 BANGKOK
Thailand
---
27 May 2020
3:00PM, local time (UTC+7)
Bangkok
Are you interested in?
---
Home to over 750 million people with diverse demographics, Southeast Asia's economies are on the rise. With the establishment of the ASEAN Economic Community (AEC) in 2015, the region has benefited from trade agreements facilitating free movement of goods, services, capital and people among the member countries, spurring Southeast Asia into an important stage of continuous economic growth.

The cosmetic industry is one of the key sectors, and investments in this sector were expected to reach 10 billion dollars by 2020. Even if the sector is expected to slow down its growth during the pandemic, Thai government expect a double digit increase in 2021.
---