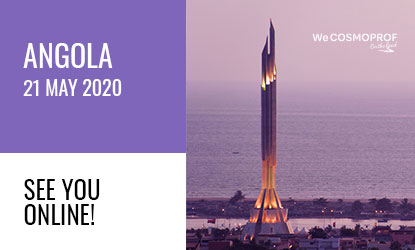 LUANDA
Angola
---
21 May 2020
10:30AM, local time (UTC +1)
Luanda
---
Second largest oil producer in Africa, Angola also has the third largest GDP in sub-Saharan Africa, after Nigeria and South Africa. A rapidly growing and structuring market.

The beauty market in Angola is characterized by strong growth (+15%/year), driven by a strong market structure. Angola is home to a young population and the presence of a large and growing 'middle class'. Macroeconomic stability has been restored and maintained through a more flexible exchange rate regime, restrictive monetary policy, and fiscal consolidation.

Its principal cities, including its capital, Luanda, look west over the South Atlantic to Brazil, another Portuguese-speaking nation (like itself). It has a population of more than 28.8 million (2019). According to the updated IMF forecasts from 14th April 2020, due to the outbreak of the COVID-19, GDP growth is expected to fall to -1.4% in 2020 and pick up to 2.6% in 2021, subject to the post-pandemic global economic recover.
---