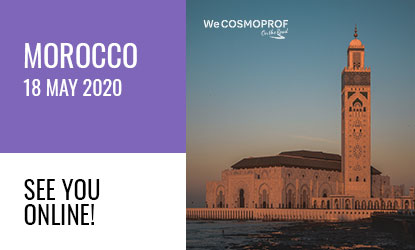 CASABLANCA
Morocco
---
18 May 2020
10:00AM, local time (UTC +0)
Casablanca
---
Morocco is a fast developing market, with an expected growth of around 7.5% by 2025. The greater economic power of the middle class and a change in daily customs and activities are increasing the consumption of cosmetic products.

Thanks to the relative economic stability and investments in infrastructure, the market in Morocco boasts a strong presence of local companies, linked to traditional products based on typical ingredients of the geographical area - Argan oil, rose, lavender, Berber fig oil, clay - which feed green and natural cosmetics, which are exported abroad with good results.

At the same time, the presence of international brands is growing in the country, which take advantage of the increase in sales among younger consumers. On 23 March, the Centre marocain de conjoncture anticipated that GDP growth would slow to 0,8% in 2020, compared to its earlier (January) forecast of 3.5%, reflecting the impact of Covid-19 measures and a difficult situation in the agriculture sector, impacted by the drought.

This would be the lowest level of growth in the last two decades, although a strong rebound is foreseen by Bank Al-Maghrib in 2021, drawing on improved contributions from both the agriculture and no agriculture sectors.
---