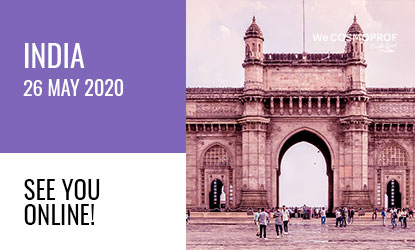 MUMBAI
India
---
26 May 2020
3:00PM, local time (UTC +5:30)
Mumbai
---
Booming beauty and wellness industry. India is one of the largest consumer markets in the world. Beauty and wellness in India is growing with an expected value of INR 803.7 billion by 2017-18 (approximately $12 billion).

India's economy expanded at its slowest pace in more than six years in the last three months of 2019 and was projected to clock in full-year growth of 5% which would be the lowest in over a decade but still one of the most important growth in the world.

Covid-19 is a stimulant towards this functionality innovation, with brands facing more pressure to convey safety, longevity and product efficacy.
---