The main topic of the next edition of Cosmoprof Worldwide Bologna is sustainable beauty, with no compromise. From packaging to formulas, from the research for natural ingredients to policies chosen by companies with enlightened managers.
Thanks to specific projects and special areas dedicated to these themes, Cosmoprof is the proof that today the focus is on beauty products providing a true self-care sensorial experience.
Not just Sustainable Beauty, but Holistic Beauty as well.

Simple gestures, organic elements and synergies create a wellbeing state, respecting both our body and the environment where we live. Cosmoprof Worldwide Bologna anticipates these trends by introducing in Cosmo Perfumery & Cosmetics a selection of brands with a wide range of products inspired by this mood.

OMORFEE – EXTRAORDINARY GREEN GALLERY – COSMOPRIME HALL 14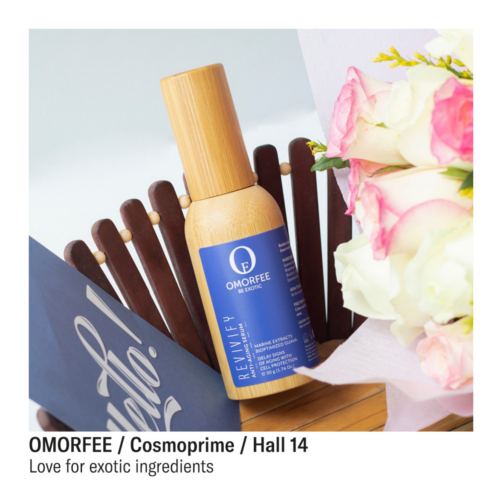 Omorfee is an up-and-coming company, the result of an Indo-German alliance, which gained fame in 2016 thanks to a line of body-care products with natural and organic ingredients. The brand's products have Eco-Cert, BDIH and One-Cert certification. Omorfree defines itself as a prestige brand offering natural, safe and effective products. The product lines boast certified organic ingredients as well as the most cutting-edge technologies and come with bamboo packaging.
The Revivify Anti-Aging serum nourishes and preserves the beauty of the skin thanks to a combination of ingredients that is like a magic formula. Ingredients include seaweed extracts from the Atlantic Ocean, active substances from the sea, olive-leaf extract and guava.
This elixir is full of nutrients and polysaccharides that reduce wrinkles on a deep-skin tissue level. Revivify Anti-Aging firms and hydrates the skin, protecting against external agents to prevent aging. The olive-leaf extract provides greater hydration to the skin, smoothing its surface. The bioptimized guava in the product helps give the skin a more uniform appearance in the areas most affected by the passing of time.


TEAOLOGY – EXTRAORDINARY GALLERY – COSMOPRIME HALL 14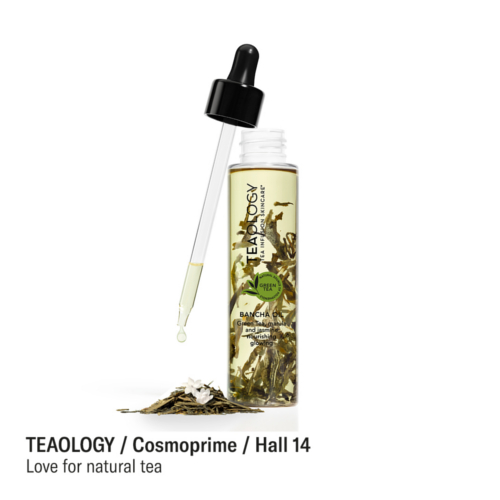 Teaology, a line of cosmetics infused with love. A love for tea, beauty and innovation. The idea behind this line was to create something that was not already on the market, taking the extraordinary properties of tea to a higher level. Tealogy offers completely unique technology with Tea Infusion Skincare ® in order to come up with effective treatments infused with the most powerful antioxidant ingredients.
For the very first time, a complete range of specialty cosmetics for the face and body has been developed relying on the effective properties of the tea plant (Camellia Sinensis) along with sensorial textures and wonderful fragrances.
Bancha Oil is a brightening oil that makes the skin soft and velvety and the hair soft and shiny. Its formula includes a mix of precious botanical oils infused with real bancha green tea leaves used pure after cold pressing. The green-tea oil extract is full of antioxidant polyphenols and vitamin E, offering anti-aging and photoprotective properties. Marula oil contains a concentration of vitamin C that is eight times higher than that of citrus fruits and leaves the skin looking fresh and radiant. Jasmine essential oil tones and revitalizes, while sweet almond oil offers intense nourishment, perfecting the complexion and revitalizing dehydrated skin.
THERINE SKIN CARE– EXTRAORDINARY GREEN GALLERY – COSMOPRIME HALL 14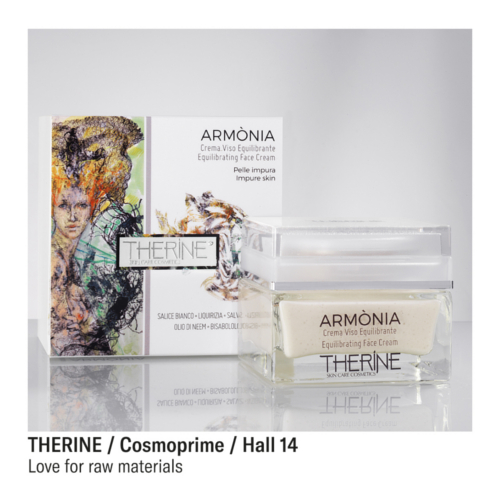 Therine Skin Care is an Italian line of natural holistic cosmetics, focused on the most precious ingredients and a multisensorial approach. Nature is this brand's muse, and its list of ingredients certainly shows that. The Therine line does not use formaldehyde derivatives, Sls / Sles / Als, synthetic antioxidants, chemical chelators, dyes, parabens, harmful preservatives, mineral oils, synthetic thickeners or petroleum derivatives. Packaging is also very important and has been conceived to preserve the chemical and physical characteristics of the cosmetics. The materials used in the packaging are recyclable, fully in line with the company's totally eco-sustainable philosophy.
Armònia is all about balance. The Mediterranean and the East come together in a delicate emulsion with a light, fresh texture that makes the most of a specific combination of natural functional ingredients that give the product excellent dermo-balancing properties. It is ideal for skin that tends to be oily and have impurities. The appealing scent of licorice extract with its powerful soothing action blends with white willow, a source of flavonoids and antioxidants. There's a balanced synergy between the bardana and sage extracts with their dermopurifying and seboregulatory properties, together with the combined action of neem oil, a natural emollient and bisabolol with intense soothing action, giving the skin a pleasant sensation of comfort and relief.